In this workshop, we want to encourage our participants to look at their projects from a different perspective; XR experiences are composed of more than 3D models and animations. In this half-day event, we will guide you on transforming your project into an artistic experience that engages the public.
We address questions like What makes an XR experience artistic?, Who is a Designer? Who is an Artist in XR? How can an artistic approach make your project more effective? What is the story you want to tell with your XR experience? Who is your audience?
Workshop agenda:
Date: Wednesday 09 of June
[ 9:00 ] Opening: Albrecht Schmidt – Welcome and introduction round.
[ 9:05 ] Motivation: Albrecht Schmidt – Why XR-ART – The Relationship of Science and Art.
[ 9:20 ] Group discussion: Tamiko Thiel – what makes this art?.
[10:20] Break
[10:30] Talk: Ivana Druzetic and Charlotte Triebus – "Art or Design – Mapping Creative Disciplines".
[11:00] Interactive Session: Steeven Villa – Short project pitches + discussion
What is your project? – Why does it need to be engaging? – What would you want to show? – To what audience?.
[12:30] Closing: Steeven Villa – Wrap up and next steps.
Organizers:
Speakers: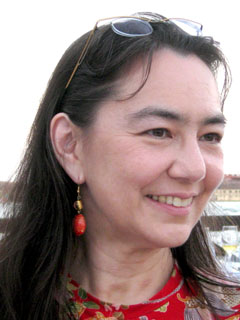 Moderation
Suggested Experiences & Material
1. "Evolution of Fish" AR experience, by Tamiko Thiel and /p
This AR experience surrounds you with a swarm of fish. Open the app and look slowly around your room – you will see swarms of fish start to appear – or perhaps swarms of plastic garbage. You can guide them around, but too much interference in their lives disrupts the ecosystem and turns them into plastic garbage.
Download the ARpoise app from the App or Play Store. Install, allowing access to location and camera.
When you start the app, select "Evolution of Fish" out of the menu.
If you see swarms of fish, try guiding them around your space by moving slowly. They will follow you, but if you move too much and/or too quickly, the fish will turn into plastic waste.
If you see garbage, lay the device down (or hold yourself very still) for a minute or two, and the plastic objects will turn back into fish.
Questions:
This is ridiculous, fish do not turn into garbage!
Or do they? If a fish eats a lot of garbage and dies, what is left over in the end?
This could be considered artistic surrealism, or just bad, inaccurate science fiction.
Is it justified to do this?
2. "Inside Tumucumaque" VR experience

Oculus GO: https://www.oculus.com/experiences/go/2314740761925766/
Inside Tumucumaque lets you experience the Amazon rainforest through the eyes of five different animals that live there: a Poison Dart Frog, caiman, harpy … Ultraviolet color spectra, super slow motion, visualizations of echo sounder locations and colour night vision as well as spatial 3D sound, are used to show you the same environment in different ways through the senses of each animal.
Questions:
What does the first person perspective (or the "first animal eyes perspective") give you that a 3rd person description does not?
What emotions or sensations do you experiences while "inhabiting" the different animals?
3. "Notes on Blindness" VR experience
In 1983, after decades of steady deterioration, John Hull became totally blind. To help him make sense of the upheaval in his life, he began documenting his experiences on an audio cassette. These original diary recordings form the basis of this project, interactive non-fiction using new forms of storytelling to explore his cognitive and emotional experience of blindness.
Oculus Rift: https://www.oculus.com/experiences/rift/1671004309616863/
Samsung Gear/Oculus GO: https://www.oculus.com/experiences/gear-vr/1015802351839289/
Questions:
This project could have been created as a purely factual VR exercise to depict what John Hull sees after losing his sight.
Does the VR experience give you personally additional value, even if the visual depiction is perhaps not exactly accurate? (I assume "totally blind" means he sees nothing at all, and certainly not the defined shapes in the VR experience.)
If so, what?
How does the work impact you emotionally?
What does it convey about the experience of losing sight to you at a personal level?
4. "Spheres" VR experience (3 chapters – try and view at least one of them)

https://www.oculus.com/experiences/rift/1859625197439973/?locale=en_US
I frankly have problems with their statement: "Space is not silent. It is full of sounds." I wouldn't use an untrue assertion in any case, and this could have been formulated differently. Unfortunately, we are so used to hearing sound in outer space in all our science fiction films that it seems sorely lacking if we leave it out.
Requires Oculus Rift or Rift S
Questions:
Does however the use of sound/music convey something that would be missing otherwise?
How could they have used sound differently to convey this without using music?
Or if they do use music, how could they word the description differently to explain why they use music even though there is none in space?